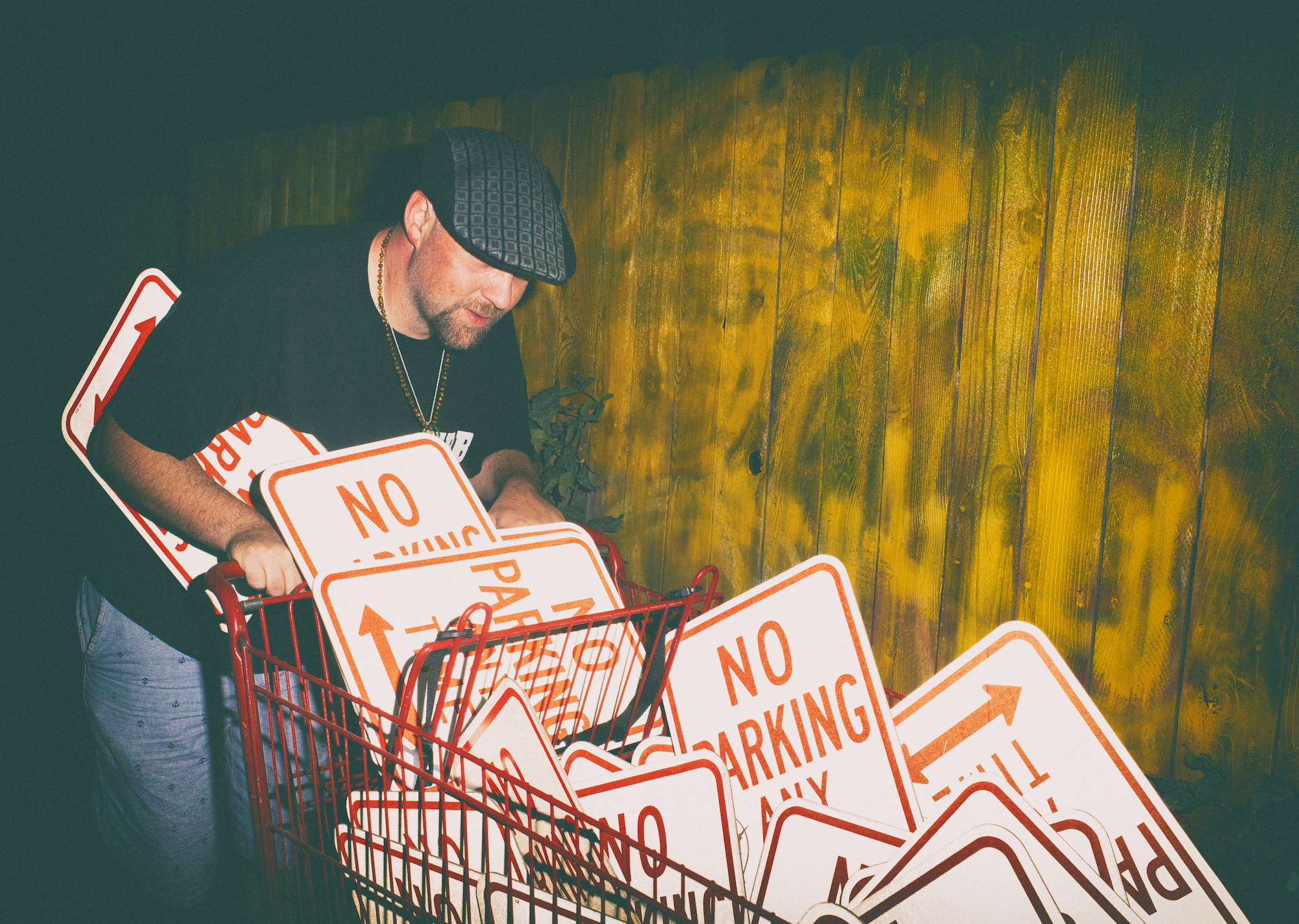 In 2005 when legendary Roots MC, Black Thought dubbed him the "Signtologist," nobody knew exactly how far Denver-based Dan Ericson, best known as Dunn The Street Sign Artist, would take the new name. Since beginning this seemingly fateful journey, Dunn has become the creator of a soulfully crafted cycle the likes of which the art, hip-hop or urban street scenes have never seen. This entirely green artist has turned his art form into a science, recycling hundreds of street signs into unique homages to the musicians, actors, public figures and athletes that inspire him.
An unconventional art form to say the least, Dunn fell upon using street signs as canvas by chance. Fate, a love of urban culture, and an extensive animation and graphic design background led him to the pieces you see today. Dunn's work is owned by a number of artists such as Rakim, De La Soul, Spike Lee, Digable Planets, Pharrell and Wyclef Jean. This outreach on his part has allowed his artwork to gain national attention as well as helping to complete the cycle of inspiration. Further, XXL realized Dunn's talent before many others and brought his work to a whole new level when he was featured in Dec 2007 issue.
Dunn recognizes and appreciates the liberal investment the Denver art and hip hop communities have given him and aims to repay that in full by donating pieces whenever asked to charity. Using his position to pay tribute to fellow artists and consistently drawing attention to the great city of Denver and all it has to offer fellow artists and members of the hip hop community.
Dunn has found a unique way to turn ordinary to extraordinary while staying within the intent and the criterion of the sign itself. Rare is it that we stumble upon an artist so telling of the time. His eco-friendly work has been seen worldwide in art shows, on television and in the homes of those he paints. His portraits speak to a generation advocating change-not only for our environment, but for the media that molds us. 
Dunn has shown his work around the country just to name a few places New York, California, Nevada, Texas and of course he always has work up in Colorado. Keep up to date with all his up coming shows at www.thesigntologist.com
Freelance Graphic Design                                                                                    
Logo Design – Denver Relief (2013)
Logo Design – Rocky Mountain Short Sales (2012)
QR Code customization for KIO Storage (2012)
QR Code customization for Akomplice Clothing (2011)
E-Book Cover Design – Anthony Quinata (2011)
Logo Design – Bill Ray (2011)
Logo Design – Kendole Charles (2011)
Album Art for DJ Maseo of De La Soul (2009-2010)
Logo Design – Eric Matelski (2008)
Signage displayed at Magic Tradeshow in Las Vegas, NV for Akomplice Clothing (2004-2008)
Marketing and Design for Rhythm Vision (2002 – 2006)
T-Shirt Design for Hawgback Motorcycle Shop (2005)
"HOOD" weekly published & DCAF award winning comic strip (1999-2004)
Fine Artist                                                                                                                        
Solo Show at House Of Rock "Live At The Loop" Corpus Christi, TX (2013)
Solo Show at Produce Corpus Christi, TX (2013)
SoGnar's Shred Circuit National Tour (2013)
Currently under representation in Brooklyn, NY through House of Art (2012 -2013)
Co-Produced & Curated 13 Lumens Candle Art Show Denver, CO (2012)
Mural Project "Basquait" Metropolitan State College Center For Visual Art Denver, CO (2012)
Solo Show at Kultured Chameleon Kansas City, MO (2012)
Contemporary Art Fair New York, NY (2012)
Group Show at Gallery 3 Reno, NV (2012)
Solo Show at Gallery 3 Reno, NV (2012)
Currently under representation in New York through House of Art (2012)
Signtologist Suite in Nu Hotel Brooklyn, NY (2012)
Outdoor Group Show "Your Keys To The City" Art Piano Denver, CO (2012)
Curator for "The Art Of Records" Denver, Co (2012)
SoGnar's Mighty Midwest National Tour (2012)
Solo Show at Akomplice | Fuzion Santa Barbara, CA (2011)
QR Quick Response Art Show Produced & Co-Curated Denver, CO
Pittsburgh, PA & San Francisco, CA (2011)
Cherry Creek Art Festival at Division West Denver, CO (2011)
Featured Artist in Westword's "Artopia" Denver, CO. (2008 & 2010)
Nominated for Best Street Artist of 2009 Santa Fe Art District Denver, CO
Whole Foods Green #5 Art Show Denver, CO
Co-Produced & Curated Prayer Candle Shows "Waxburner" & "13 Lumens"
Chicago, IL. & Denver, CO. (2008 – 2010)
Tote bag Show Benefit for Hudson River Clear Water Beacon, NY. (2008)
Denver Arts Week Featured artist at Denver Performing Arts Complex. (2007)
Publications                                                                                                            
Hi Fructose (2012)
Huffington Post (2012)
5280 Magazine Article "Sign Language" (September 2011)
Dime Magazine (2011)
9 News KUSA – TV (2008,2009 ,2010)
The Onion (2008)
Denver Post (2008)
XXL (2007 & 2010)
Nickelback "Rockstar" Music video (2008)
January 2018
SATURDAY, 2/3 from 11am – 3pm -> Nationally acclaimed Denver art fixture Dan Ericson aka Dunn The Signtologist has been down with The Solution since basically day one, partnering with us to curate The Art [...]
Dan Ericson's legends are rappers and hip-hop artists and in a weird way, the reverse is true too. "People knew there was this kid who will give you street signs, but with your face on [...]
August 2017
The Signtologist is very proud to be working with The Levitt Pavillon Denver In Ruby Hill Levitt Pavilion Denver is a non-profit established with the purpose of building community through music. We believe in embracing [...]
June 2017
The Signtologist is pleased to announce that a piece of his artwork has been accepted into the permanent collection of The American Jazz Museum! "Charlie Parker"  The Signtologist 2017  The American Jazz Museum is a jazz museum [...]
LEGACY PLAYS ON 20 YEARS OF THE AMERICAN JAZZ MUSEUM The Legacy Plays On! reincarnates the American Jazz Museum's inaugural theme in commemoration of 20 years serving the local and national communities through research, exhibition, [...]
Dazzle was the first place I was able to show my art in Denver, curator Eric Matelski took a chance & booked me here in 2004. Since then I have been apart of a few [...]