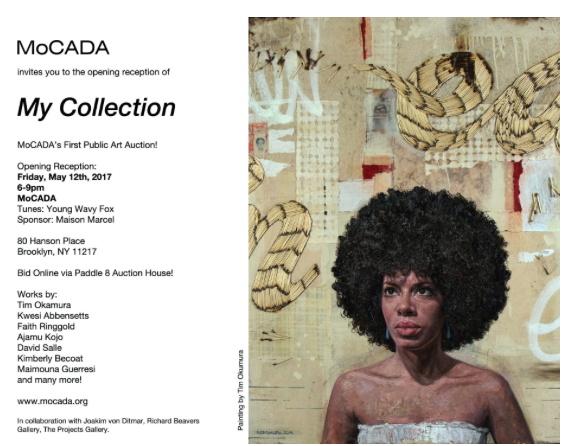 MoCADA cordially invites you to the opening reception of My Collection, the museum's first public art auction exhibition! Join us on Friday, May 12th, for the premiere of an extraordinary collection of prints, drawings, paintings, sculpture, and other mixed media works.
On view from Friday, May 12th to June 4th, this exhibition will highlight both emerging and established artist of the African Diaspora, many of which have previously exhibited at MoCADA and supported MoCADA since its inception. This exhibition will also serve as an opportunity for patrons to support MoCADA's mission of using art to build community, by purchasing a piece of artwork.
In collaboration with Joakim von Ditmar, Richard Beavers Gallery, The Projects Gallery, the funds raised through the auction will directly support MoCADA's free programming, and its growth into a new building at Lafayette and Flatbush, slated to open in Fall 2018.
My Collection
Friday, May 12th, 2017
6-9pm
MoCADA
Tunes: Young Wavy Fox
Sponsor: Maison Marcel
Bidding will be available online via Paddle 8 Auction House!
MoCADA thrives because its artistic community continues to create and address the issues that are pressing within the global African Diaspora, and because of the support of its community.