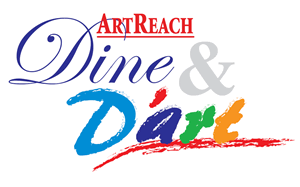 April 7
6:00 PM – Cocktails and Art Preview
7:30 PM – Dinner and Live Auction
9:00 PM – Dart for Art
Preview the 2017 Dine & D'Art artwork here!
Join us at Kuni Lexus of Greenwood Village for the fastest art on two feet – ArtReach Dine & D'Art. This event is unique in that after a cocktail reception/art preview and dinner with a live auction, guests dressed in their best line up and listen for their names. When called, they will dart for paintings, furniture, photography, jewelry, sculpture, and pottery generously donated by local and national artists, as well as collectors. It's good exercise and great philanthropy.
Tennis shoes are welcome and even encouraged when darting for your art!