Round 2 of Test Kitchen going down 1/25/17 MC's
#TestKitchen welcomes the creativity of performers who want to perform unheard songs with select feedback from guest A&R personalities.
Each month we'll release a "Test Kitchen" report so the scene can be elevated by new artists.
To be considered, send submissions to TestKitchen@RouxBlack.com
Test Kitchen 2.0 will fature performances from:
BlackBuddha
Kruza Kid
Chris Jones
Nick Zoellner
Queen Jay Triiiple
Taylor May
Luke Skyy
Ceejay Franchize
Patrick Rose
Shaun Mercier
NinaNine
Hosted by Stephan Show Gilbert
Guest A&R feedback from Sonya Police & Rob4Real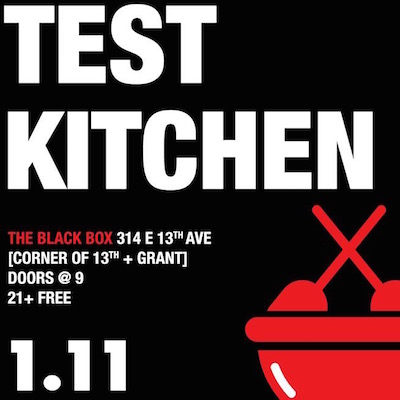 "Test Kitchen," a bi-monthly "first listen" live hip-hop showcase is launching at The Black Box, Denver's latest music venue on January 11th (Wednesday). The showcase will take place on the second and fourth Wednesday of each month and is hosted by Roux Blackand friends.
The design behind "Test Kitchen" is meant to highlight new and emerging artists in Denver whose independent movements deserve to be showcased on dynamic soundstage. The artists will be curated by writer and arts advocate Ru Johnson with a guest influencer who will act as "A&R" for live feedback of the performers' offerings.
Each month, Roux Black will release a "Test Kitchen Report" that will go out to press, talent buyers and other tastemakers in the city to elevate the independent hip-hop music scene.
"What I've seen when hip-hop artists submit their music to me is their passion for the craft and desire for a listening audience. Denver is one of the best places to do music, but a lot of hip-hop artists don't feel like they have as much accessibility as other genres. Test Kitchen will elevate the movement and open the doors for new artists to showcase their talents," says Ru Johnson.
The Black Box will double as an arts show on these "Test Kitchen" Wednesdays with guests artists from various spectrums of the hip-hop music scene. For the inaugural month's festivities, we're pleased to welcome The Signtologist whose art has pioneered the street art industry and personifies the best elements of hip-hop displays.
Wired for incredibly professional sound, The Black Box (owned and run by Nicole Cacciavillano of Sub.Mission) has the best lovers of music behind the movement so providing a platform for "Test Kitchen," is a natural progression for the work of the Sub.Mission crew.
Artists can submit their music to Ru@RouxBlack.com for consideration.